Site Map & Rules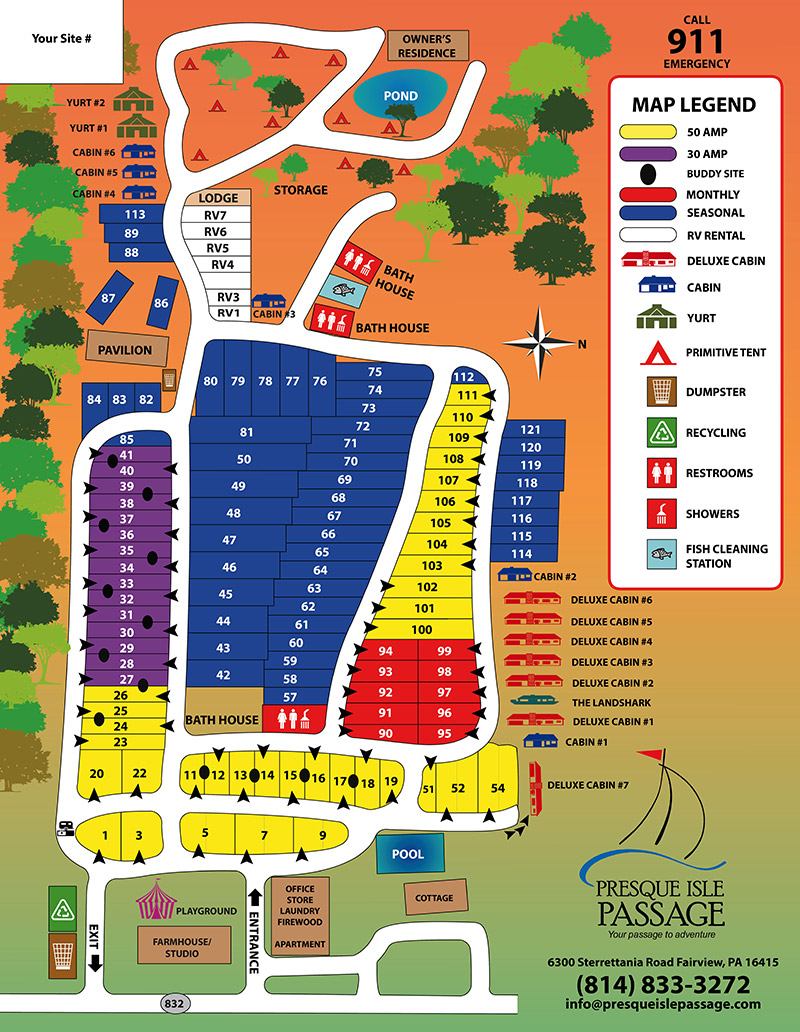 Click here to view or download a larger map (PDF).

For the safety and enjoyment of all our campers, we ask that you abide by the following rules.

Check-Out Time: Check out time for RV sites is 12:00 noon. There are no refunds given for early departure.
Quiet Hours: Quiet hours are from 10:00 PM to 7:00 AM.
Speed Limit: The speed limit on campground roads is 5 MPH at all times.
Picnic Tables: One picnic table per site. Do not move picnic tables from site.
Pets: Dogs must be kept on a leash at all times. Do not leave pets unattended. Please clean up after your pets.
Parking: On RV sites, motor vehicles should be parked on the gravel, not on the grass.
Campfires: Campfires are allowed on campsites in fire rings only.
Alcoholic Beverages: No alcoholic beverages are allowed off of your site and are prohibited for individuals under the age of 21.
Respect for Vegetation: No cutting of any trees, at any time. Do not drive nails into any tree.
Water Usage: No vehicle washing at any time. No washing of clothes, dishes, or utensils in restrooms.
Sewer System: Do not flush sanitary products (diapers, cloths, etc.) into the sewer system.
Children: Parents are responsible for the safety and actions of their children. Playing in and/or around washroom or water taps in prohibited. Parents must pay for any damage caused by their children.
Guests: All guests must be registered at our office at all times.
Messages: There is a message board located outside our office door. All messages will be posted on the message board.
Trash Disposal: Please deposit all trash in the dumpster located at the campground exit.