Site Map & Rules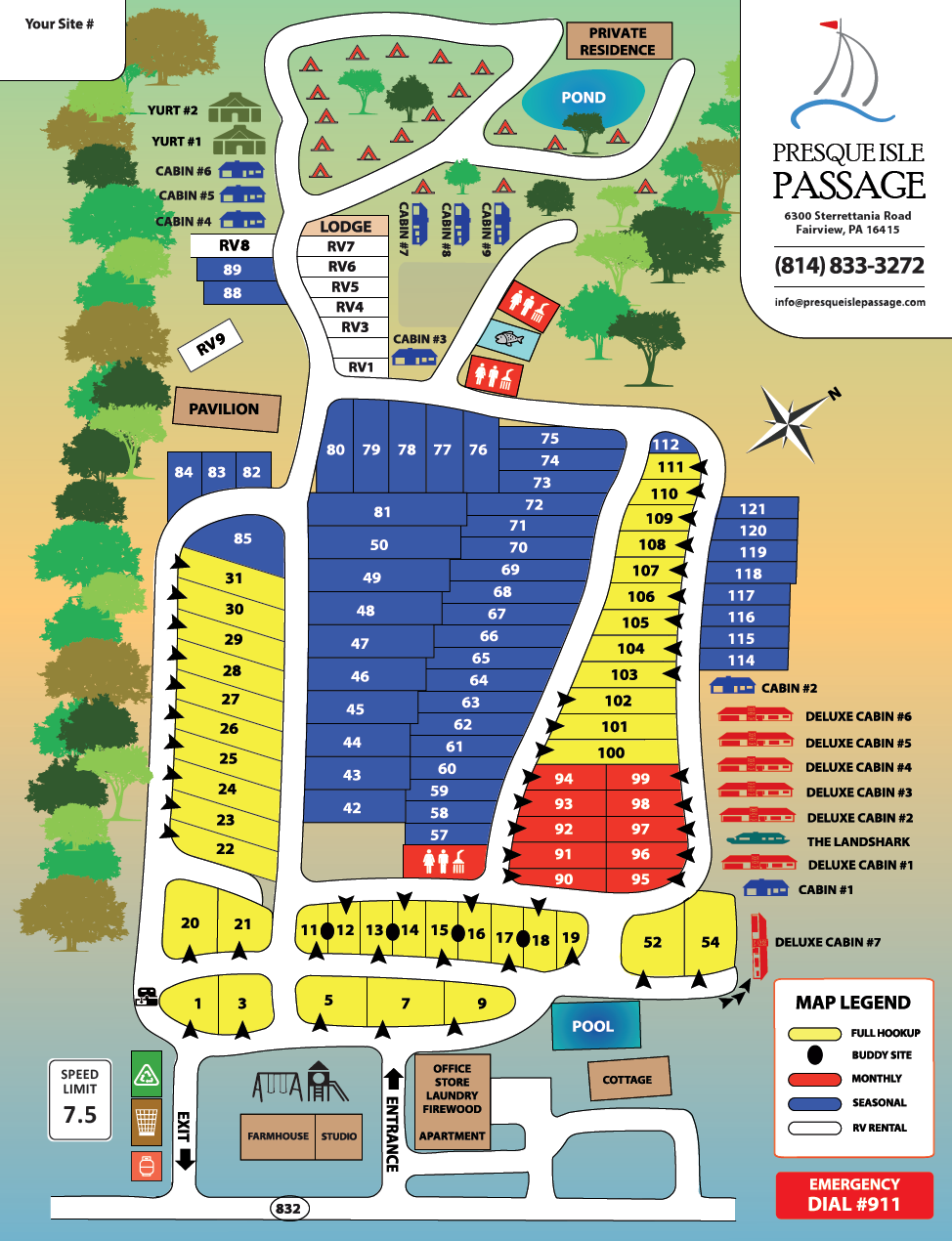 For the safety and enjoyment of all our campers, we ask that you abide by the following rules.

Check-Out Time: Check out for all rentals and RV sites is 11:00 am. There are no refunds given for early departures.
Quiet Hours: Quiet hours are from Midnight to 7:00 AM.
Speed Limit: The speed limit on campground roads is 5 MPH at all times.
Picnic Tables: One picnic table per site. Do not move picnic tables from site.
Pets: Dogs must be kept on a leash at all times. Do not leave pets unattended. Please clean up after your pets.
Parking: Vehicles should be parked on the gravel, not on the grass. Each rental has parking for two vehicles and each campsite has parking for a vehicle plus a camper/RV. Additional vehicles may need to be parked in other areas of the campground.
Campfires: Campfires are allowed on campsites in fire rings only.
Pool: The pool hours are 10 am to 9 pm weather permitting and are subject to change. The pool is not staffed by a lifeguard, swim at your own risk. Anyone 16 and under must be accompanied by an adult over 21.
Alcohol: Alcoholic beverages must remain on your site or at your rental unit. Alcohol is prohibited for individuals under the age of 21. Violation is grounds for immediate removal from the park.
Respect for Vegetation: No cutting of any trees, at any time. Do not drive nails into any tree.
Water Usage: No vehicle washing at any time. No washing of clothes, dishes, or utensils in restrooms.
Sewer System: Do not flush sanitary products (diapers, cloths, etc.) into the sewer system.
Children: Parents are responsible for the safety and actions of their children. Playing in or around the bathhouses or camp store is prohibited.
Guests: All campground guests must check in at the office. Overnight guests are $3 per night.
Messages: There is a message board located outside our office door. All messages will be posted on the message board.
Trash Disposal: Please deposit all trash in the dumpster located at the campground exit.